Kan - Israeli Broadcasting Corporation
Netta Barzilai - Augmented Reality Effect Eurovision 2018
May 7th 2018
Ahead of the 2018 Eurovision, and in order to generate a buzz and promote Netta Barzilai's song Toy in digital arenas, we launched for the Israeli Public Broadcasting Corporation "Kan" an augmented reality (AR) effect on the Facebook and Instagram camera.
The effect enabled users to share a story of themselves with Netta Barzilai's kimono and pigtails to the sounds of Toy in the background. This was very successful and the many shares on the internet before and during the event influenced public opinion and generated significant exposure for Netta and the song around the world.
Netta Barzilai Eurovision 2018 - Augmented Reality
The effect was developed for users of a mobile phone selfie camera and presents to them themselves with Netta Barzilai's kimono and pigtails to the sounds of Toy in the background. The effect also contains buttons to play sound clips of the cawing that is associated with Netta, and other segments from the song, a kind of tiny "mini looper" on the story camera.
The effect went on air about a week and a half before the Eurovision contest which took place in Lisbon, and after Netta Barzilai's appearance in the semi-finals, we posted an update with additional version of the effect that included Netta's exact outfit from the semi-finals. In these two days, the effect went viral and was shared thousands of times by people in various places in Europe, which created a positive buzz in digital arenas ahead of the finals.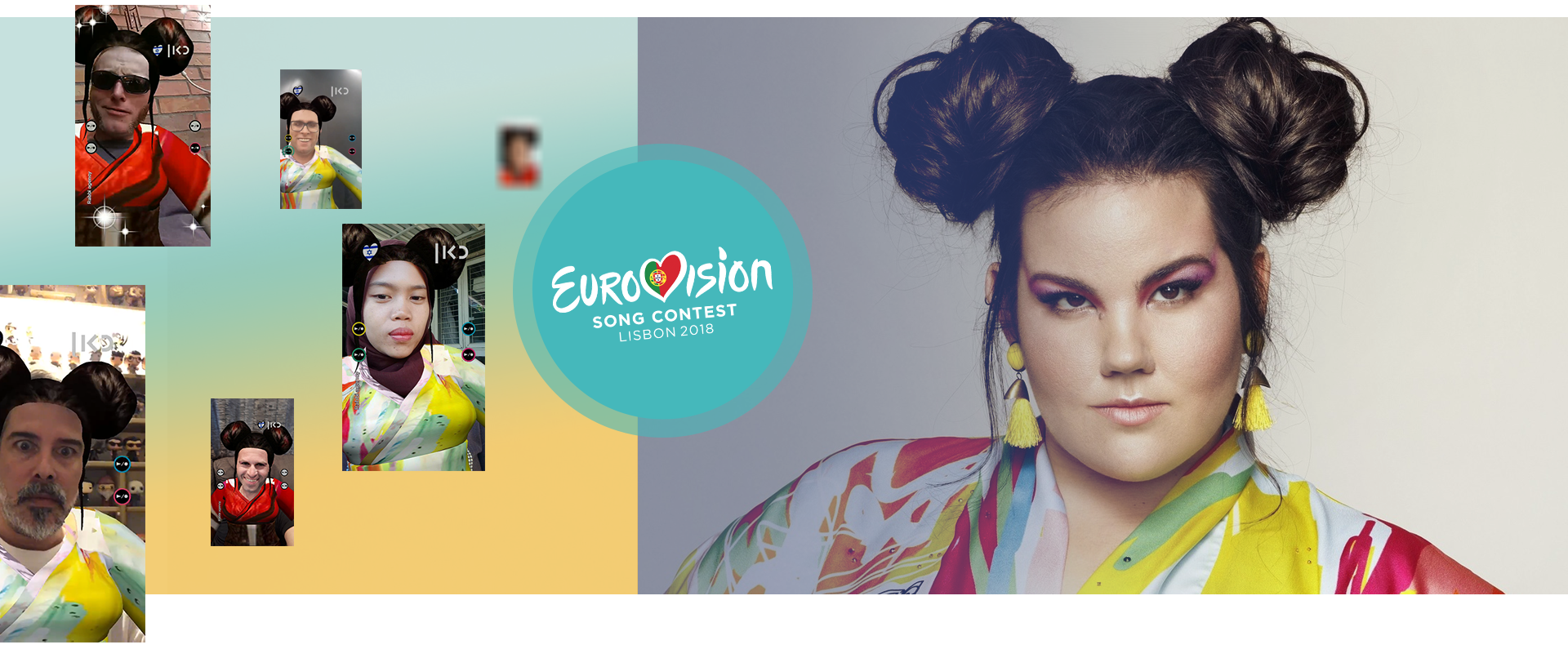 Netta's cover photo: Daniel Kaminski, KAN facebook page
Development of the effect was divided into several stages, from the design stage, the simulation process that included the creation of the kimono and pigtails in 3D, as close to Netta's look as possible, another simulation of Netta's clothes that required additional precision regarding texture, and including them in the proper locations.
"We are happy that we created a digital product that supported and helped promote Toy and Israel in the Eurovision contest. We saw the massive impact of the digital campaign on the final results. We created something very unique and original on the international level, and were curious and moved to see the results", said Gil Rabbi, CEO of the technology company Rabbi Interactive. "We were pleased to see so many Jews in Israel and around the world who supported and were proud of the song that represented us by gestures and experiences in the story and on social networks. We were even more surprised by the number of foreign users."
Among the many users who posted themselves with pigtails to the story were Israeli Knesset members, Netta Barzilai herself just before the finals, and the mayor of Tel Aviv-Yafo who invited the public to celebrate Israel and Netta's win in the square.
מתרגש ברמות של דוז' פואה! היום ב-19:30 נחגוג בכיכר רבין עם נטע ברזילי, חברי המשלחת הישראלית וגם נציגי אירווזיון אהובים אחרים את הניצחון הסוחף. אם תהיה דרישה מהקהל אולי אעלה עם קאבר משלי.

Posted by ‎רון חולדאי‎ on Monday, May 14, 2018
נטע כפרה עליך - כל עם ישראל מאחוריך! Netta Barzilai נטע ברזילי

Posted by ‎אורן חזן - Oren Hazan‎ on Friday, May 11, 2018