project goals:
Strengthening the promo in the digital arena leading into the sixth season of Big Brother and to the airing of the episodes.
A promotional campaign and preliminary video prior to the sixth season of Big Brother, that integrates mobile and video clip rendering in real time. The campaign that was planned, designed and developed by us invited visitors to create their own promotional videos, whereas successful videos were broadcasted as promos on Channel 2.
Prior to the return of the Big Brother reality show, together with the show's promo launch in which different scenes were shown, different combinations composed the date of the show's broadcast – the fourteenth day of the fifth month – we launched supporting actions in the digital arena.
The actions in digital form invited visitors and fans of the show to produce their own promo video using a "syllable generator" we developed. This tool can choose every syllable in the sentence "the fourteenth of the fifth", a clip from the collection of clips and situations that were shown in the various forums. Visitors could also film their own segment for each syllable directly from a smartphone application and produce their own video that looked exactly like the promo shown on TV, with the promo's original transition scenes. By doing so, visitors created hundreds of personalized promos that conceptually matched the original promo.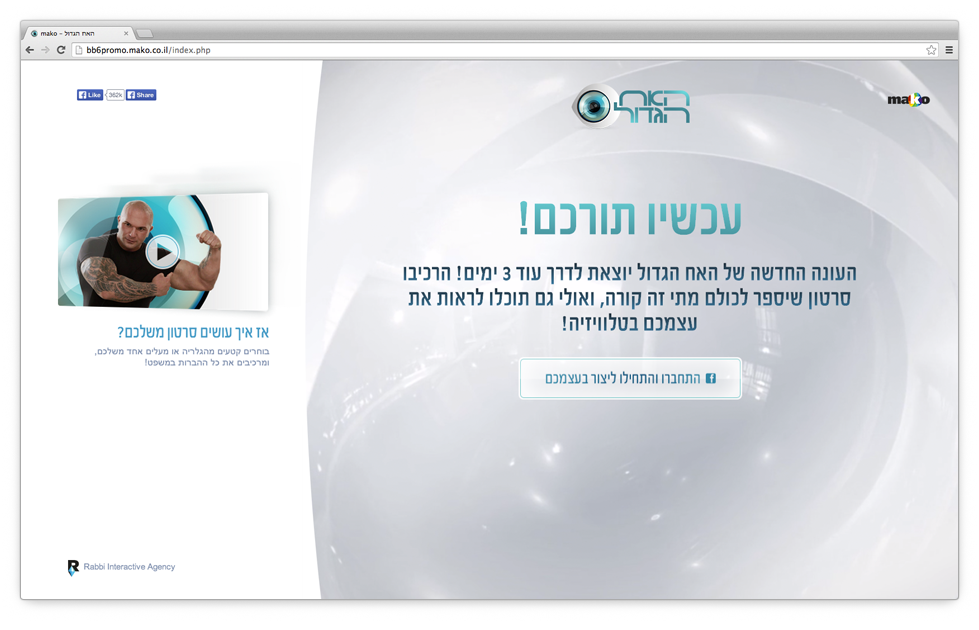 The main screen of the activity, desktop version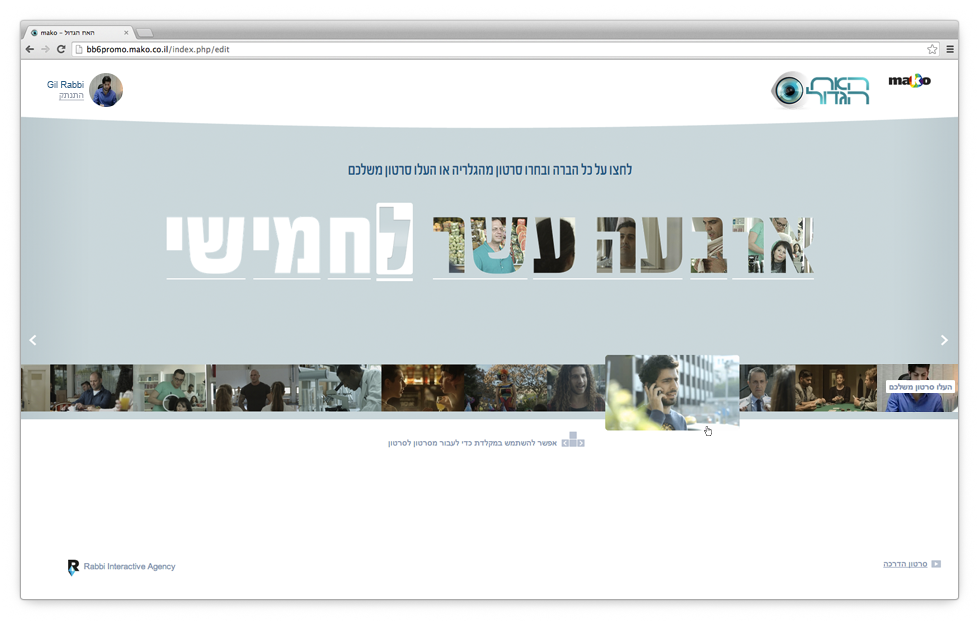 The syllable generator screen
The syllable generator we developed linked and rendered the many videos created in real time by the visitor or from the video pool, after which the user who produced the video received a notification both via email and Facebook when the produced video was ready for viewing and sharing.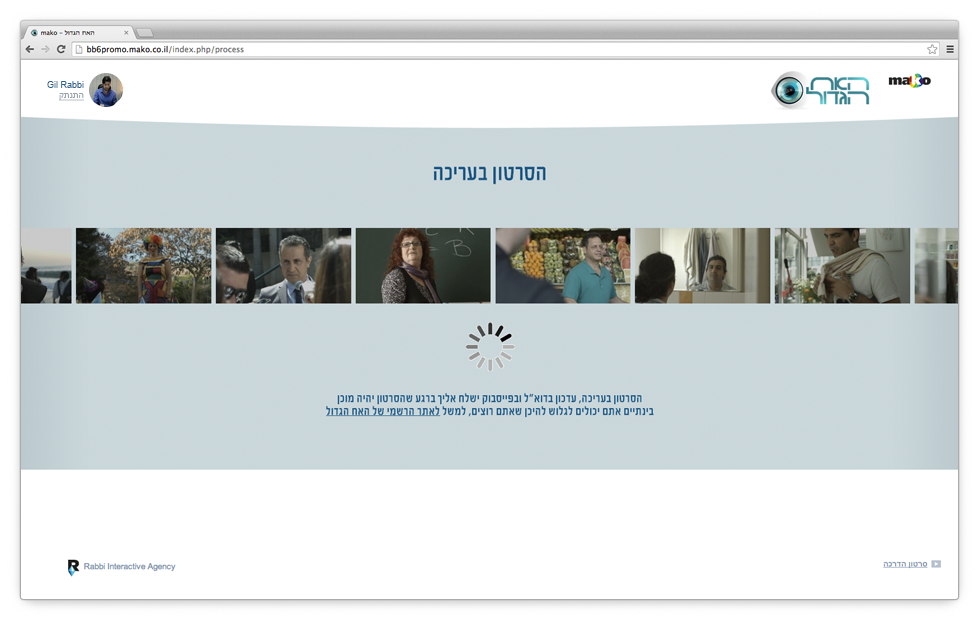 Rendering status screen - in real time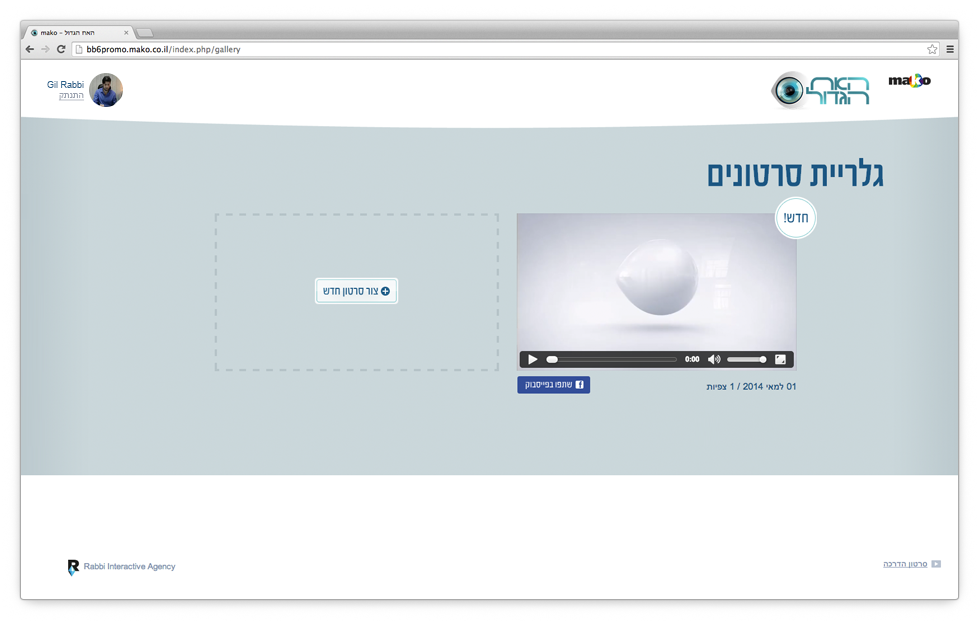 The activity was promoted in Keshet's various media platforms and on Channel 2 while showing selected videos that were produced by the visitors. The smart engine that was developed with an easy-to-use user interface allowed visitors to generate their own promo videos, which led to the production of many promo videos and their sharing on social media.

Behind the scenes of the syllable generator there are complex operations of rendering the videos to produce a single video containing the user's videos, ready-made transition scenes from the promo, and videos that user used from the pool. In addition, the original videos were stored in order to maintain the possibility of broadcasting the videos in high quality on TV.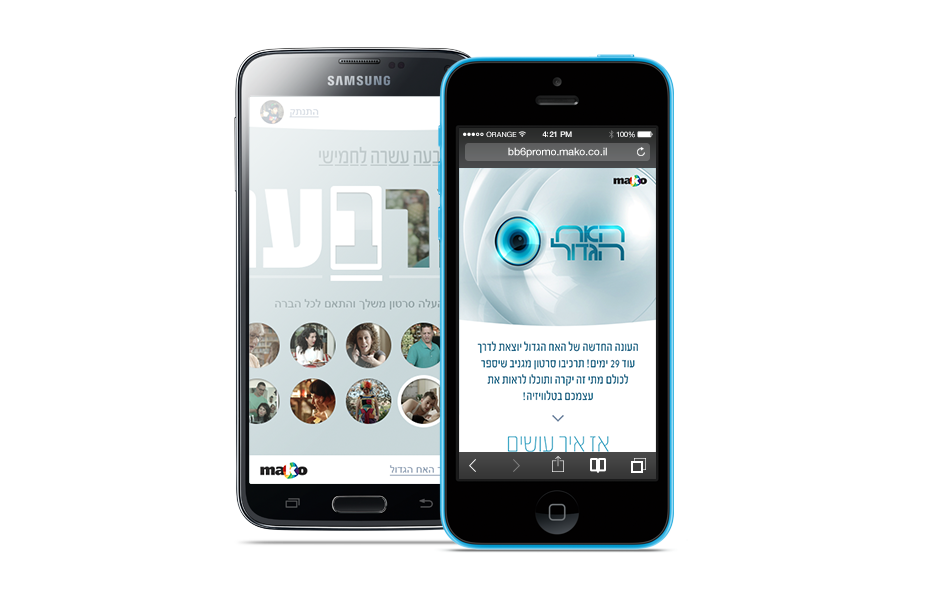 The promotion activity for the sixth season of Big Brother , on mobile
Together with the emphasis on implementing an ideal user interface for desktop and mobile, we invested thought as well as planned smart workflows in order to produce and export the final video version with minimal waiting time for the user.
All mobile screens were designed before development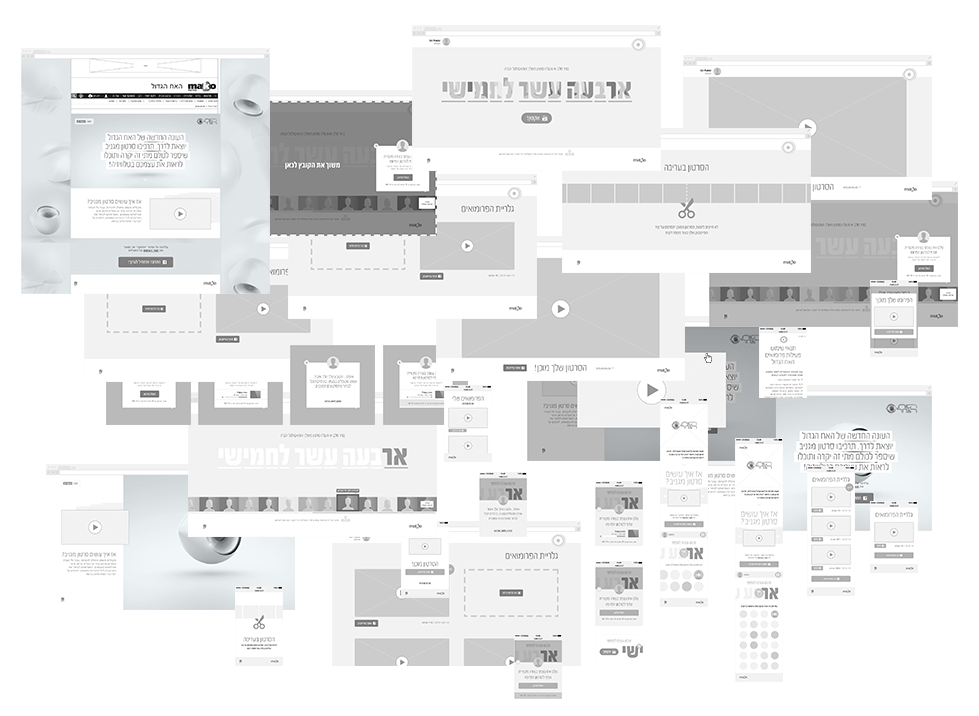 Designing interfaces of the activity for all platforms

Planning scenarios and thinking of use cases