project goals:
To connect home viewers to the reality series, increasing their involvement during the show
Dual-Screen Interactive Set-up Supports 'The Next Star' TV Show throughout its Season.
'The Next Star' (Rising Star) application, planned and designed by us, was created exclusively for second season of the popular, 'The Next Star' television series. The application is synchronized with the show's live program and changes the usual viewing experience. The home viewer is transformed into an active user, interacting in real-time with the show content via another, linked screen.
Promotion video. Rising Star application
In addition to the interface design (UI) and user experience (UX) that we have created, a major challenge in the project was to build the supporting infrastructure to allow a large number of users to access the app simultaneously during the broadcast when prompted to do so by the program hosts.
Participation occurs only during the show, and restarts each time a contestant gets on stage for a screen test. The mobile screens are closely synchronized with the TV broadcasts, and are automatically activated by the push method to coincide precisely with the contestant's performance on stage. Between contestants' performances, the audience is shown displays of related content.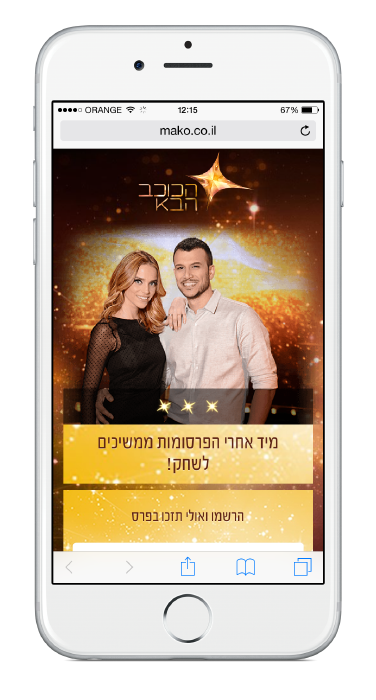 Dual Screen Interactive application
Often, when we watch the talent show, we think we know from the start of the song whether or not the contestant will succeed. The functionality we have created allows viewers to try to guess whether the contestant will manage to raise the screen, right from the beginning of the performance. For each screen test, then, viewers can use a sliding scale to determine the percentage a contestant will receive from the panel of judges and studio audience, and the viewer who picks the closest percentage to the real result in each round wins a prize.

Our uniquely developed rating system enables the team in the broadcasting studio to identify the winners of each performance within a few seconds, and show the successful home participant on live TV.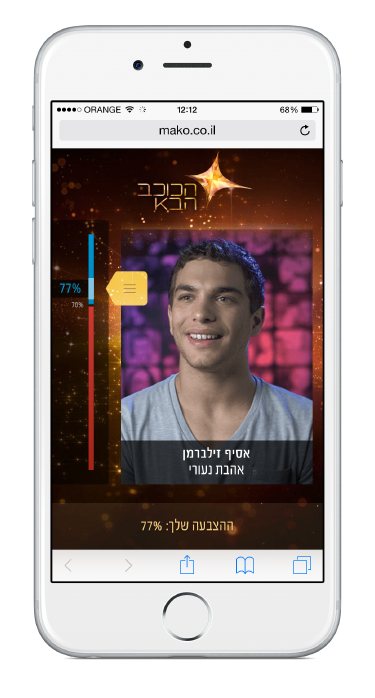 The Next Star (Rising Star) application
During the show, the hosts, Rotem Sela and Assi Azar encourage the viewers to download the application and join in the game. Banners and articles on the Mako website promote the show throughout its season.


The application is defined as successful dual-screen interaction with an extremely large number of users for each program.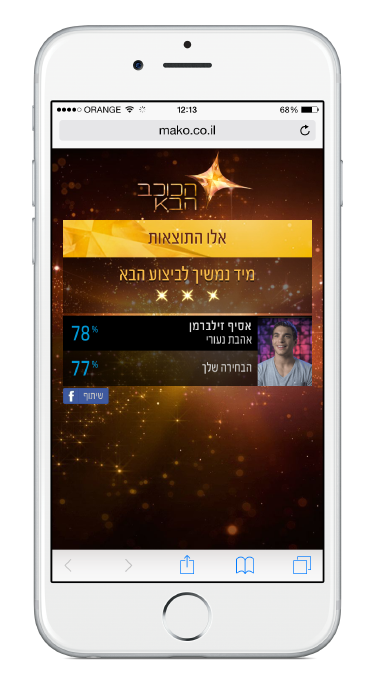 rating system enables the team in the broadcasting studio to identify the winners of each performance within a few seconds