project goals:
To establish a digital platform which will serve as the advertising campaign's main tool allowing users to locate small businesses nearby.
Bank Hapoalim's Small Business Day is one of the most prominent strategic campaigns in Israel. This is the third year in which Israeli residents have been asked to do their shopping at small businesses. Bank Hapoalim's Small Business Day initiative was born as part of its long-term strategy to provide continuous support for small businesses in Israel.
As the major part of the campaign we set up a digital tool through Mako, both to enable small business owners to join the process, offer discounts and benefits, and allow residents and customers to find small business near them.
A video produced by Bank Hapoalim's advertising agency promoting the digital platform
The Mako campaign directed people to the digital platform, where they could find small businesses near them and locate businesses through search or by category. The platform was planned and designed for desktop and mobile separately, to enable a better experience on small screen platforms.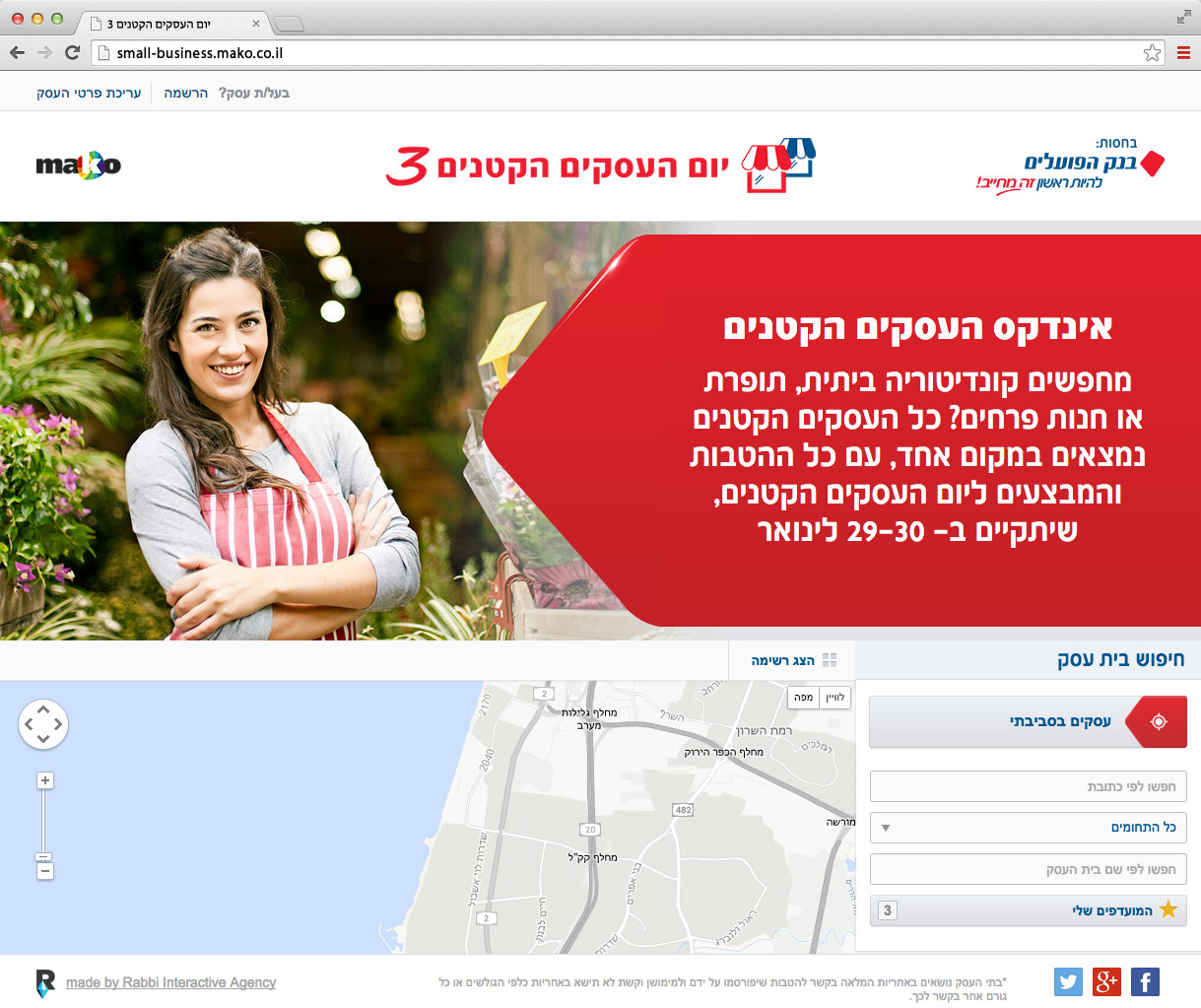 The Small Business Index on Mako
Participation in Small Business Day is open to any small business across the country, regardless of where it holds its bank account. Businesses which signed up during the process received a special kit to display at the front of their business, where they could write Small Business Day discounts and special offers, as well as on the digital tool.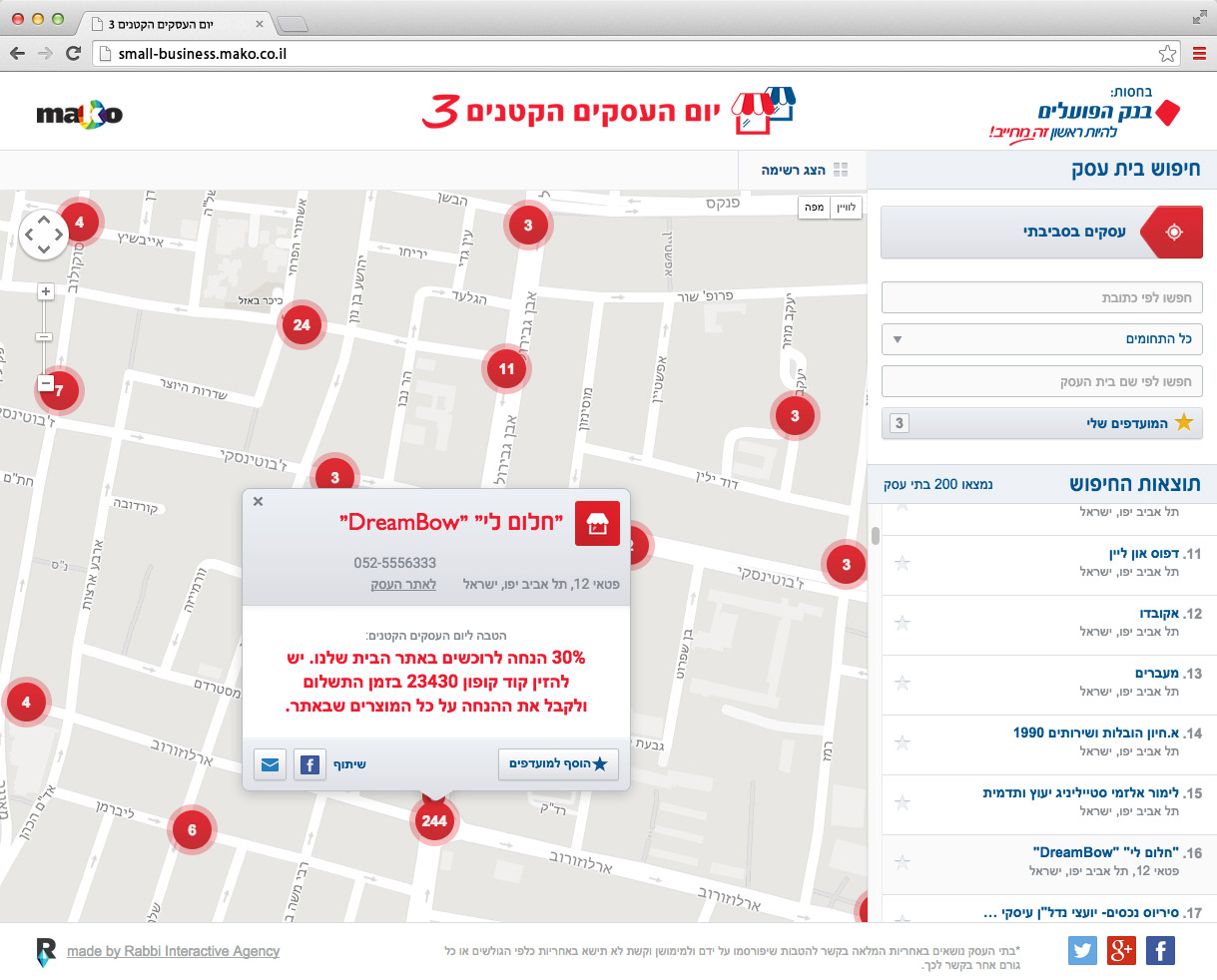 Small businesses displayed by user's location
People were referred to our digital platform through the advertising campaign that was uploaded to Mako. Any user who went into Mako on their cellphone saw the promo which referred them to the designated website. Advertisements on billboards and bus stops also referred users to the designated mobile website. This way, they were able to find small businesses nearby through a fast transition to the website from the advertisement.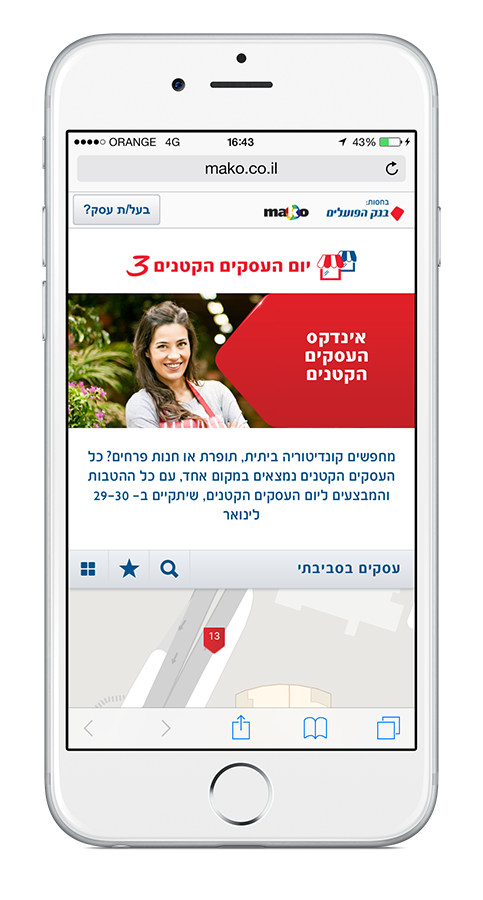 Small Business Day - Bank Hapoalim
In addition to displaying businesses in the location environment, the mobile version has enabled automatic navigation directly to the business via an external navigation app, displaying the distance to the business, saving businesses in the user's favorite bar , searching by fields and dynamic display on the map..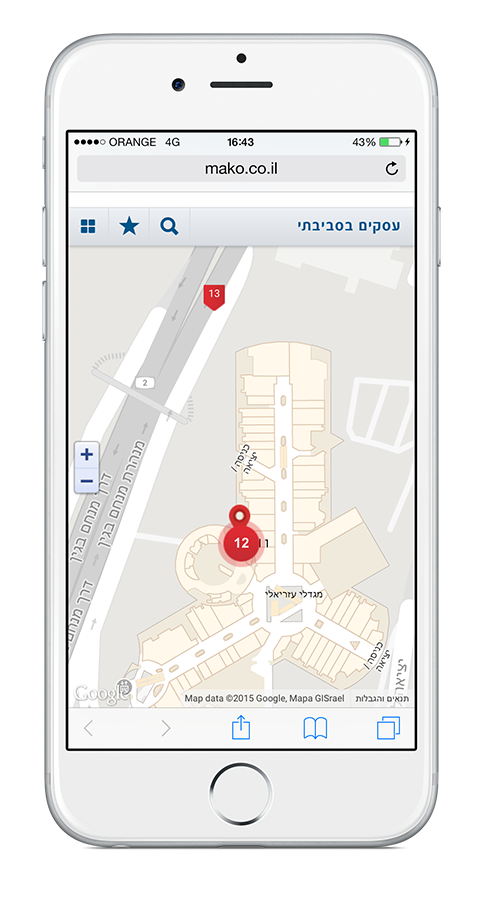 Small businesses displayed on an interactive map
To enable a convenient user experience to be used on-the-go while on the move with a mobile device, we have designed 2 display modes for user selection: a compass display that shows the user's location and the businesses around it and a grid display that shows the businesses closest to each other and highlights the various benefits offered by business owners..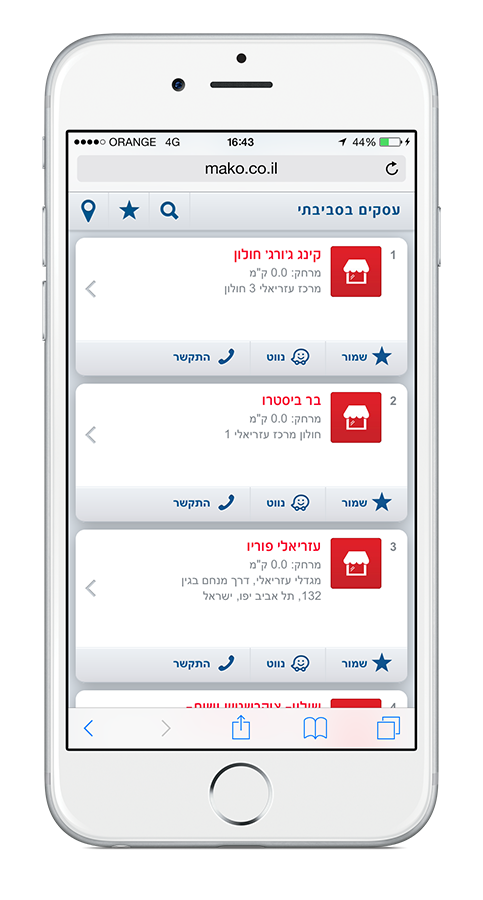 Small businesses displayed on a grid